Agenda culturel
Pour ouvrir ces lieux magiques au public, pour les inscrire dans l'histoire d'aujourd'hui, Edificio est à l'initiative et propose aussi des événements culturels ouverts à tous, tout au long de l'année. Voici les événements à venir.

---
La 6ème édition du Brussels Harp Festival se déroulera les 12-13-14 octobre 2018.
Découvrez la harpe dans tous ses états dans l'un des plus beaux lieux de Bruxelles: la Bibliothèque Solvay
Brussels Harp Festival, festival unique en Belgique en partenariat avec Edificio, est depuis 2008 un événement  qui révèle à tout public la harpe au travers de concerts, workshops pour enfants et ateliers de lutherie.
Celtique, chromatique, triple, jazz, classique, électrique ou encore paraguayenne, la harpe se décline ici sous toutes ses formes et dans tous les styles musicaux pour le plus grand plaisir d'un public déjà conquis.
Découvrez le programme varié de cette édition 2018 et n'hésitez plus… venez nous rejoindre pour un weekend féerique !
Facebook
---
---
For the first time, Edificio opens the doors of the historical Solvay Library in occasion of the Brussels Jazz Weekend 2018 !
Saturday, 26th May as of 13.30, immerse yourself in the natural atmosphere of this unique venue inside the Parc Leopold.
Free live jazz concerts, terrace, drinks will welcome you in a relaxed and fancy experience.
If you are a musician, take your instrument with you, we will reserve as well an area to jam session!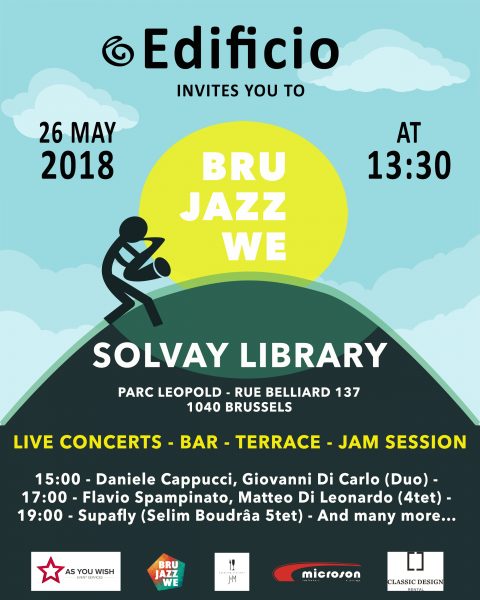 — LINE UP —
13.30 : Open doors
15.00 : Daniele Cappucci (double bass), Giovanni Di Carlo (guitar) DUO
Daniele Cappucci and Giovanni Di Carlo duo shares an unique innovative and creative capacity performing a mixture of traditional jazz (Ellington,Gershwin,Porter,Davis,Hancock…) and own compositions through a personal sound. It's swinging, it's grooving !
17.00 : DI LEONARDO / SPAMPINATO 4tet
Flavio Spampinato – Voice / Matteo Di Leonardo – Guitar / Julien Gillain – Keyboards / Lucas Vanderputten – Drums
Philip Catherine introduced this band as "an example of great jazz made from a new generation".
The 4tet sounds are rich of timbres and atmospheres, songs are interestingly arranged, offering a listening from a traditional jazz universe to a modern approach of compositions.
19.00 : SUPAFLY 5tet
Selim Miles – sax vocal / Guylain Domas – bass / Bastien Jeunieaux -guitar / Maxime Moyearts – keys / Ben Téqui : drums
SupaFly 5et, revived Soul Jazz, from Freddie Hubbard to Grover Washington Jr, to harpist Dorothy Ashby. SupaFly's with a varied and colorful repertoire will take you to the border of two totally connected and inseparable worlds, Jazz & Soul.
JAM SESSION OPEN THE WHOLE DAY
RSVP